How To Stay Sustainable This Chinese New Year!
The phrase 'out with the old, in with the new' is heavily associated with the festive season and spring cleaning. Letting go of old ideas and objects and welcoming fresh and new beginnings for the new year.


However, this Chinese New Year, reduce the festive waste by learning how to repurpose and let go of your old belongings while staying sustainable!🎉


__________________________________________

Recycle your used red packets with Geneco's CNY Used Red Packet Recycling Bins initiative!
Collecting red packets is definitely the highlight of every Chinese New Year; I know it is mine! But what if I told you that it could be both fulfilling (in every sense) and sustainable? Exciting, isn't it? Introducing
Geneco's CNY Used Red Packet Recycling Bins
🥳


This Chinese New Year, REFASH has partnered with Geneco once again to present our dear shoppers, you guys, with an accessible recycling point for your old red packets! Simply toss your used red packets into the recycling bins to do a part in preventing the overwhelming amount of festive waste! 
The recycling bins will be not only available in all REFASH outlets and HQ (
except for our Eastpoint and Junction 8 outlets
) but also in other locations islandwide! Hurry down to any of the locations before the Geneco Red Packet Initiative ends on
6 March
! For the entire list of recycling bin locations, you may refer
here
!
Here's an example of a recycling bin at REFASH, Plaza Singapura!



__________________________________________

Reusing old decorations for future Chinese New Year celebrations🐅

Decorations for the Year of the Tiger 🐯 call for bold statement pieces, flashy and striking – just like the tiger. However, once the festivities die down, don't just throw the beautiful decor away! Keep them all in a dedicated plastic box or bag, and store them away from direct sunlight to maintain the vibrant colour! You could reuse the same decorations for future years to come, keeping your favourite pieces from each year!

My family keeps and reuses the Chinese New Year decorations every year, keeping them in a bag in the storeroom. The red pieces are still vibrant and clean even after years of use. After all, if it's not broken, don't replace it! Of course, you could still purchase new decorations, but by keeping the old decor from previous years, you will reduce the number of new ornaments you will need to buy! This small effort will eventually reduce the amount of festive waste generated ♻

/>
IMG: Aliexpress


__________________________________________


Donating and giving your preloved items a second life!

This CNY, I am sure we are all busy cleaning out our houses, collecting bags and bags of unwanted clothes, items, and rubbish. Instead of just throwing them all away, why not donate them to someone in need? There are multiple shops and places in Singapore where you can donate your clothes, giving them a second life! Places such as the Salvation Army, MINDS, and New2U, accept your old clothes, recycling and repurposing them! 

Alternatively, you could visit any
REFASH store
and drop off your old clothes to earn some side cash! For more information on how to drop off your clothes at REFASH, you may refer
here
! By doing your part in not disposing of your old clothes, you help reduce the amount of textile waste generated, combatting the major environmental crisis caused by the fashion industry😊

IMG: Zerrin
__________________________________________

Keep your old snack containers!

Who can forget the iconic mountain of red lid plastic containers filled with crisp and fragrant love letters, melt-in-your-mouth pineapple tarts, and many more?😋 But once there are no more snacks, what happens to the old plastic containers?


Repurpose the old snack containers and use them to store other consumables such as dry ingredients, condiments and spices, tea bags, and more! You could even attempt to make your own cookies and keep them in the same containers 🍪


Personally, my mother loves to bake and keeps her freshly baked goods in these red lid containers reused from Chinese New Year buys! Additionally, the bag of coffee powder and tea bags are kept in another container, keeping them dry and preventing them from going bad.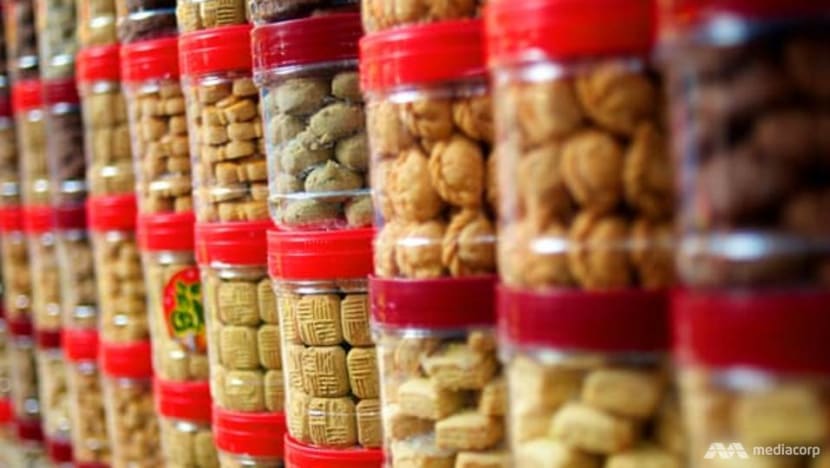 __________________________________________


A little goes a long way. If we can all just take one thing away from this blog and apply them during this Chinese New Year, we can reduce the festive waste generated!


Besides enjoying ourselves, this festive season, let's not forget the aftermath of the festivities! Don't forget to let the planet breathe and play our part in reducing the massive amount of festive waste generated 🌏🤍


__________________________________________